Posted: 06-22-2013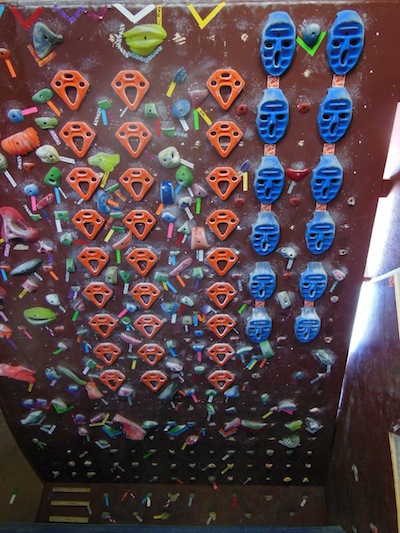 Many people who are interested in purchasing my newly released signature Rock Candy Systems Training Tiles have inquired about the recommended configuration for their systems wall. The wall depicted in the above image has the following specs:
The wall was built as a 40 degree overhanging "Moon Board" design: The decision to build the wall as an official regulation "Moon Board" was to provide versatility, allowing for seasonal rotation between TF Systems Tiles configuration and Moon boulder problems. Due to limited space, the facility that built the above featured training wall will rotate the the holds bi-annually, offering systems training for 2 months, followed by 4 months of "Moon Board" boulder problems. These tandem wall configurations promote periodized training phase that can be repeated 2x/yr. This approach varies between a more redundant systemized modality of integrated movement training targeting specific weaknesses and the diverse movements offered by the plethora of "Moon Board" test-pieces found in the archive.
For more information regarding the Moon Board, the story and culture behind Ben Moon's training methods, the advantages of this type of training and how to build a proper training wall to meet these specs please visit Moon Climbing
It is highly advisable to provide long runs of very large in-cut foot holds up either side of the larger system tile columns to provide resistance modification enabling the climber to gain sufficient relief through more varied body positioning options so that the worst holds on the tile are more tenable.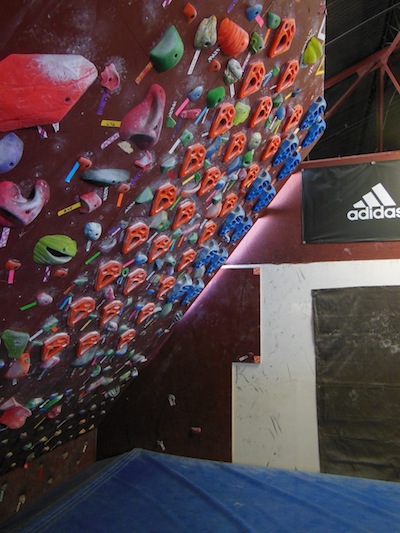 This facility has configured the wall with the new production Rock Candy Tiles to create the following configuration:
24 Small Systems Training Tiles
12 Large Systems Training Tiles
The closer the horizontal interval of systems tiles and the more numerous the vertical columns, the greater the movement exercise and resistance modification potential.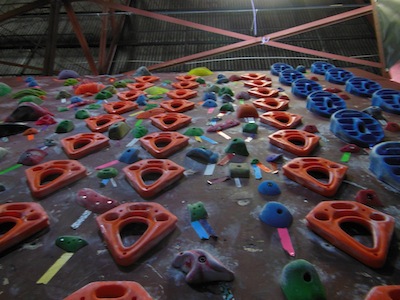 The disadvantage to this type of configuration is that the Moon Board wall angle (40 degrees) is steeper than the optimal recommended systems training wall angle (25-30 degrees). Note: these tiles were designed with an optimal wall angle range of 25-35 degrees. Therefore, the "Moon Board" bi-annual dual configuration is only recommended for advanced climbers. The other disadvantage this approach is that all of the users would need to be in the same basic periodization scheme in their training.
Stay tuned for more information!
TF