Posted: 09-01-2012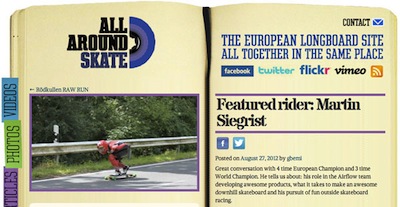 I first met Martin at a World Cup Bouldering Competition in Chamonix, France. I was on the US Competition Climbing Team and he was on the Swiss Junior National Competition Climbing Team participating in his first senior world cup climbing event.
He approached me because I was rolling around in the competition venue after my semi-final round qualification on a longboard. He recognized my ride as a Swiss made 'Scar' slalom longboard. It was my first longboard. The thing is tight and I still have it. The 36" flexi-board top is wood fiber finish and the bottom graphic is green and black snake skin.
Martin wanted to know what type of riding I was doing with my board. I explained to him that during that time period, in addition to traveling to compete in international climbing events, I was using my travel arrangements for my other covert agenda – to ride mountain pass road descents at every stage on the Bouldering World Cup Circuit.
These spectacular locations included some of the most beautiful ski resorts in the world located in Alp valleys: Courmayeur, Cortina, Bardonecchia in Italy; Ljubljana, Slovenia; Val D'Isere, Chamonix, Les Deux Alpes, Valloire, France. Of course, when I was home between events I rode some of my favorite descents in and around Briancon, France in the Hautes-Alpes region.
The roads were often treacherous and I was almost always in over my head. I had lots of close calls and stressed my training partners who I had enlisted to drive my car as the chase vehicle. I almost ended my climbing career during several wipe-outs. Being my travel partner during that time period meant that by default you were my driver for the downhilling missions. If I didn't have a limited range of motion in my hips or legs induced by an encounter with the asphalt, I was alsways super charged to compete after a "rest" day of bombing sick mountain roads. It was an absolutely exhilarating period of my life, but I'm glad that I survived that era!
Martin told me that he was getting into longboarding and it was rapidly replacing climbing as his main passion. Shortly thereafter, he got out of climbing and started hitting the downhills really hard…….and became World Champion!
While I was in Kuala Lumpur, Malaysia 2 years ago working as a spokesperson for a 24hr. Enduro climbing vent at Camp-5 Climbing Gym, I had the pleasure of driving Martin's chase vehicle for the most epic downhill longboarding exploit I have ever witnessed. The speed bumps were huge, sharp humpbacks; the hairpin curves were steep and sharp and there were people everywhere.
We conducted a recon and got through the security checkpoint at the bottom of the hill (there is an amusement park at the top of the mountain). He executed 2 flawless unrehearsed descents, one down each side of the mountain road loop. The start was 100 meters downhill from the police station and we had to pick him up at a rapid deceleration zone only 200meters before the guard station at the bottom of the hill. It was fun to watch Martin in action.
The traffic was so thick that we couldn't keep up with him in the car. Unlike the motor vehicles, he didn't have to slow down for the speed bumps. Instead, he simply grabbed the bottom of his board and jumped over them. He was moving way faster than the motor vehicle traffic. He had to catch himself on the trunks of cars, claw himself along the sides of unsuspecting passenger vehicles and pass all the buses on the inside corner as he was laying it down, rail grabbing, swinging the tail wide and dragging his uphill hand. The turns were so sharp that from our chase vehicle, we could look down and see the looks on the faces of the Japanese tourists riding on the tour buses as he passed them on the inside corners – Priceless!
Some forms of skateboarding may be illegal, but I can assure you that they're so rewarding that they're well worth the risk of getting caught and prosecuted by the law!
Martin Siegrist is a real pioneer in his sport, a passionate designer, a true badass and he has a sick sense of humor!