Posted: 01-14-2012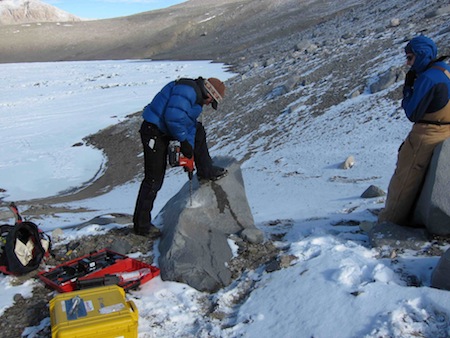 Expedition leader, Dr. Dave "Enemy-D" Van Horn (PhD), has officially become the first known boulderer in the world to operate a Hilti hammer drill on the most coveted and least accessible boulder field on the continent of Antarctica. The incident occurred at an undisclosed location (for security purposes) in late November 2011 during a rock reconnaissance mission coined, "Operation Enduring Friction", which fulfills the imperatives set forth by the G-20's No Continent Left Behind Global Initiative Manifesto. The research project is jointly funded from grants provided by the National Science Foundation and the Foundation of Antarctic Research and the US-DOD.
The purpose of the 8 week expedition is to survey unmapped sites, inventory route potential and collect rock core samples from prospective boulder fields to determine the viability of future rock climbing area exploration on the planet's 7th continent. It is believed that if enough suitable rock conducive to offering world class gymnastic test-pieces in ideal sending conditions is located on the Earth's coldest and most vastly unexplored region, that the sport of bouldering will continue to prosper despite recent global warming trends which have proven to increasingly pose complications to the successful completion of difficult climbs worldwide. Dr. Van Horn has openly stated his contention that "Antarctica truly represents the final frontier of bouldering first ascents on this planet".
The final report will be published in Spring 2012 after lab analysis of all core samples has been conducted and photo documentation and site maps have been reviewed by the technical advisory board headed by project manager and spokesperson, Timy Fairfield. The study was commissioned by co-sponsor, Futurist Climbing Consultants, Inc.