Posted: 06-10-2009
ELITE GYMNASTIC RINGS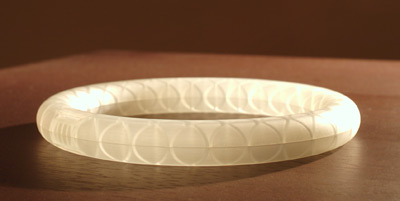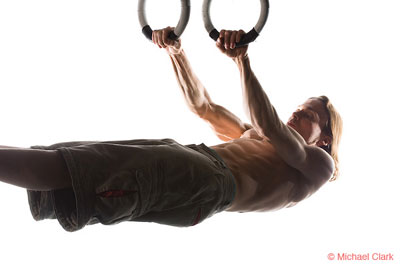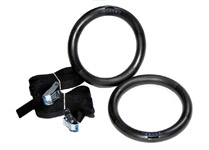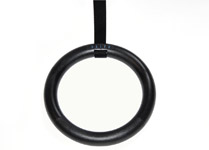 To Purchase The Elite Rings Visit: Ringtraining.com
The advanced design of the Elite Rings makes them unique in the gymnastics world. These are the first rings designed from the ground up for fitness training. Weighing less than three pounds, you can take them with you wherever you go. And the quick and easy mounting system allows you to hang them nearly anywhere. The selection of possible exercises is limited only by your imagination: pullups, dips, pushups, muscle-ups, body rows, the iron cross and much more is possible. The unique nature of the rings gives all of the exercises a fun, athletic feel.
Accessible for beginners, with gentle progressions towards harder skills.
Advanced design keeps the rings stable, allows for quick mounting, easy adjustment and light weight.
Torch your abs with uniquely effective exercises derived from gymnastics.
Challenge yourself with the Muscle-Up, a move that works every muscle in your upper body.
Develop a high strength-to-bodyweight ratio, like an Olympic gymnast.
Your order will include 2 Elite Rings, 2 extra long straps with adjustable buckles and our exclusive Elite Ring Training Manual. You can download it from the "Thank You" page immediately after you order. It includes pictures and instructions for all of the most popular basic exercises and guidelines for designing workouts. You will learn the proper biomechanics for the muscle-up, making it both easier and safer. And you will also learn how to integrate ring training seamlessly to enhance any training program. Everything you need is included!
The Unique Value of Ring Training
Ring training is time tested and proven effective by thousands of gymnasts. For fitness, the Elite Rings are even better, because by adjusting the height, you have access to new exercises not possible on traditional gymnastics rings. For example, you can now experience pushups in a whole new light. The mobility of the rings forces you to stabilize them constantly, thus increasing muscular recruitment through your whole body. The mobility also allows for variations not possible on the floor or pushup stands.
The efficiency of your workouts will improve as you incorporate ring exercises in place of their traditional counterparts. By integrating more of your musculature, fewer reps are required to achieve the same results.

Safety is improved for several reasons. First, your joints are allowed to track naturally, because you can move and rotate the rings to wherever you find greatest comfort. You can even adjust your hand placement dynamically during each rep, ensuring safety and comfort from beginning to end. Next, your safety is improved because you must always be under control while on the rings. Flailing away with improper form is not even possible. Lastly, your stabilizers muscles engage automatically and protect your joints. On dips, you have no choice but to use your lats, otherwise the rings will fly away. On a dip stand, you might never learn to use your lats properly. On rings, safety never compromises performance.
History of the Elite Rings
The Elite Rings are a modern reincarnation of a classic training tool that has been around for hundreds of years. There are illustrations of ring exercises in training manuals dating back to the 1800's. The Elite Rings use cutting edge design and materials to create an advanced ring for the 21st century. We experimented with a variety of designs and materials, including wood, metal and various plastics before we came up with the Elite design. Not only is the new design elegant and beautiful, but it maximizes the strength to weight ratio and adds some advanced features not found on conventional rings.
Our Elite Rings are so tough that we back them up with a 2 year warranty.
If you ever need help getting the most out of your Elite Rings we do our best to answer your questions and we have a friendly community to offer advice and encouragement.
To Purchase The Elite Rings Visit: Ringtraining.com