Posted: 08-25-2013
Futurist Climbing Consultants, in collaboration with Veracity Insurance Solutions, is producing The Art Of Falling – a gymnastic bouldering falling technique orientation video featuring Futurist Climbing president, Timy Fairfield. The video was re-filmed at Momentum Indoor Climbing Gym in Sandy, UT and included appearances by Madison 'Maddi' Roden from the Momentum youth competition climbing team and Cameron Allen from Veracity Insurance.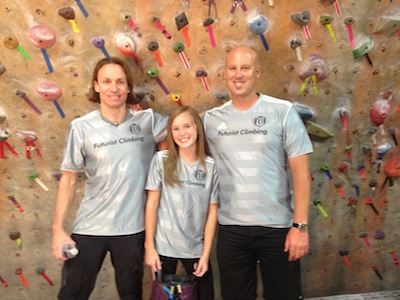 TF with Art Of Falling co-stars Maddi Roden & Cameron Allen
The video will be an educational resource distributed to over 200 commercial climbing facilities nationwide within the Veracity Insurance network with the intention of assisting facilities with risk management issues related to the practice of indoor bouldering. The video will serve as an educational resource for commercial climbing facility staff, coaches and customers by promoting and demonstrating standardized methods of customer orientation for proper falling and landing techniques while bouldering.
This initiative has been taken in response to the growing popularity of indoor bouldering as the increasingly dominant discipline within the sport of climbing amongst active users, youth teams and in competitions. The video proposes modernized bouldering-specific best practices integrating falling and landing techniques borrowed from such similar acrobatic sports as the martial arts, pole vault, high jump, gymnastics and Parkour.
The Art Of Falling video, which was filmed at Momentum Indoor Climbing gym, is currently in post-production and will be provided exclusively to commercial climbing facilities within the Veracity Insurance network Fall 2013. Recipient facilities are being advised to implement the 5' orientation video for customer processing as well as to be permanently looped on dedicated monitors placed in proximity to their facility bouldering areas. Futurist Climbing Consultants and Veracity Insurance Solutions will be collaborating on a forthcoming series of video projects featuring Timy Fairfield aimed at presenting additional topics related to the climbing gym customer experience targeted for release by Spring 2014.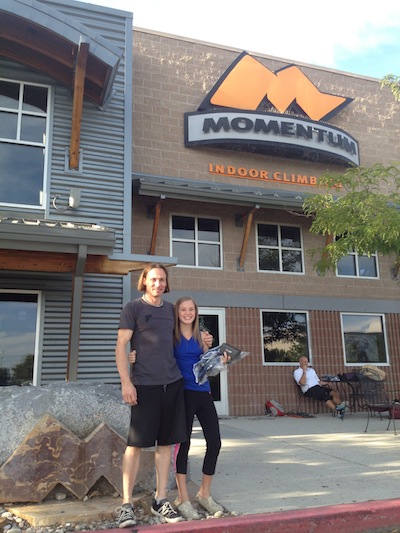 TF with Art Of Falling co-star, Madison, 'Maddi' Roden
Futurist Climbing Consultants, Inc. is committed to providing leadership to enable the healthy growth of the sport of climbing by offering expertise in the area of sport-specific bouldering practices. Futurist provides consulting services, independent design and custom flooring products to the climbing industry. Veracity Insurance Solutions, LLC is an insurance brokerage firm specializing in Product Liability, the placement of programs, and General Liability. With over 30 years of combined experience in the insurance industry, specifically including the climbing industry, Veracity has in-house underwriting authority and access to several key wholesale brokerage markets.